| | | |
| --- | --- | --- |
| User Role | Chain | Chain Venue |
| Brand Manager | ✅ | ❌ |
| Chain Manager | ✅ | ❌ |
| Company Manager | ❌ | ❌ |
| Local Manager | ❌ | ❌ |
An Item is a product that can be ordered by your customer. It is added to a Subcategory that is within a Category.
To add an Item:
Click on Menu in the top navigation bar

Menu page appears

Make sure that you are in the right Menu. Normally you will only have a single Menu called Default that opens automatically. If you have multiple Menus, you can switch the Menu using the arrow button to the right of the Menu name.

Select the Subcategory that you would like to add the Item to

A new page appears with all the Items of that Subcategory

Click ADD ITEM to add a new Item

A new form appears to add your new Item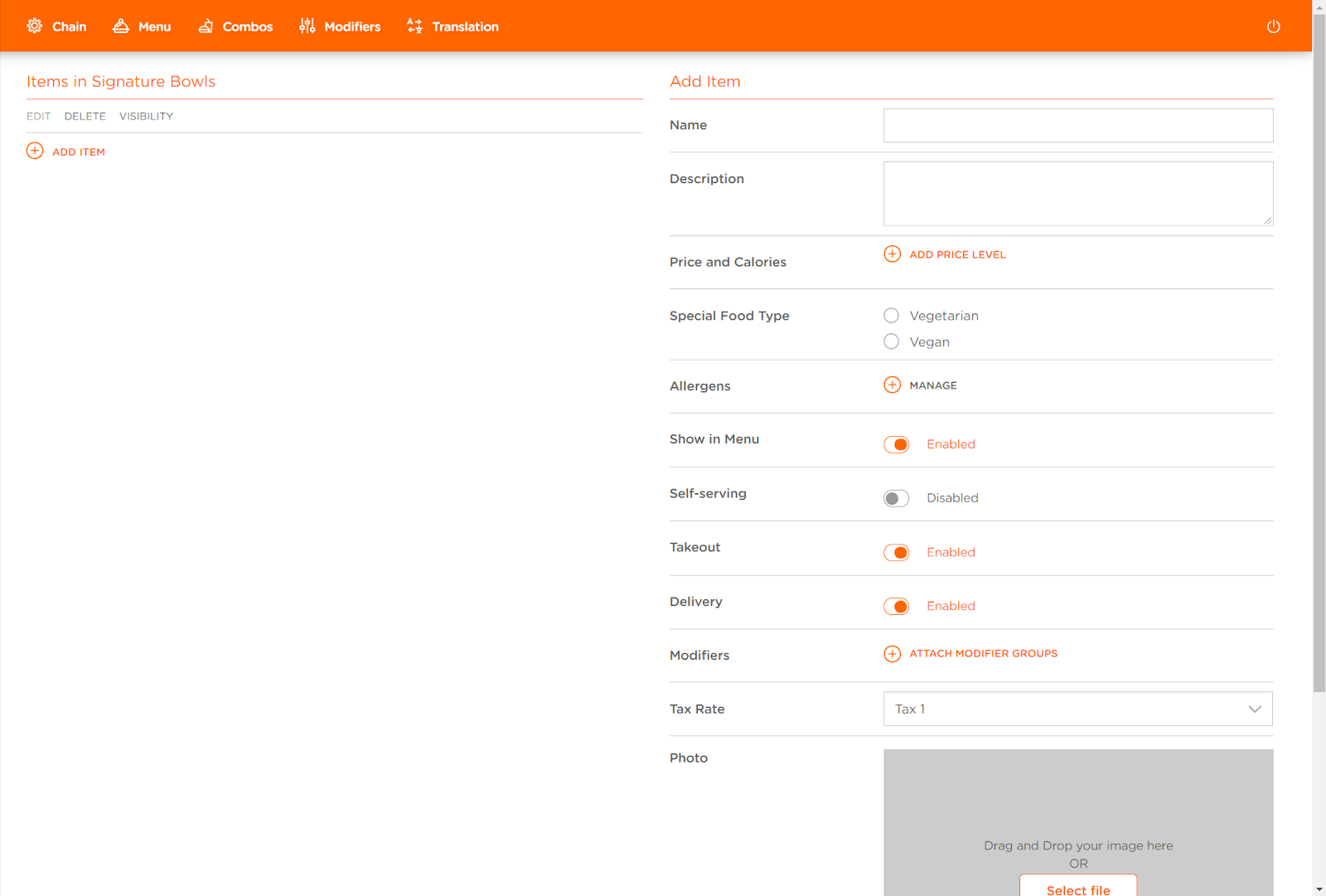 Name: The name of the Item shown to customers
Description (optional): Description of the Item shown to customers
Price and Calories: Price Levels of an Item. An Item can have multiple Price Levels for multiple sizes of an Item

Price: Price charged to the customer when ordering that Price Level
Calories (optional): Calorie count for the Price Level shown to customers
Price Level Name: Name of the Price Level (for example "Small", "Medium", "Large" etc.). A Price Level Name is required if an Item has more than one Price Level.

Special Food Type (optional): Defines whether the Item is Vegetarian or Vegan, which will be marked on channels with a special icon
Allergens (optional): Allergens that are shown to customers for the Item. How to manage Allergens for an Item?
Show in Menu: Defines if the Item should be shown in the Menu or not. Disable this if you want an Item to only be available through a Combo Meal or a Discount.
Self-serving: Defines whether the customer needs to pick up this Item at a special place or if it will be served to him/her with the rest of their order. Quick-Service restaurants often have a special place (for example a fridge) where certain items (for example drinks) need to be picked up, separately from the rest of the order. If enabled, the customer will be told to pick this Item up himself/herself.
Takeout: Defines if the Item is available for Takeout or not
Delivery: Defines if the Item is available for Delivery or not
Modifiers: Modifier Groups that are attached to the Item and will be shown to the customer to make a selection when ordering. How to manage assigned Modifier Groups for an Item?
Tax Rate: Tax Rate that applies to the Item
Photo (required): Image of the Item. We always recommend you add an image to every Item, especially if you have Kiosks.
Click SUBMIT to add the new Item