| | | |
| --- | --- | --- |
| User Role | Store Groups | Store |
| Brand Manager | ✅ | ❌ |
| Area Manager | ✅ | ❌ |
| Store Manager | ❌ | ❌ |
Context:
A Subcategory holds all Items that can be ordered by your customers.
For example:
Category: Beverages & Smoothies
Subcategory: Soft Drinks
Item: Homemade Ice Tea
To add a Subcategory:
Select the Overview sub navigation of the Menu option of the side navigation bar on All Stores level.
There are 2 ways to create Subcategories:
You can click the button "Add New" and select the option Subcategory.

If we choose this option we have to select the Category from a dropdown list the newly created Subcategory belongs to.

We can click on the "Add subcategory" button, directly under the Category where we want to create this subcategory.

Choosing this option the Category where the subcategory belongs to is already pre-selected.
Add name, image and Description to the subcategory and click on Add to create it.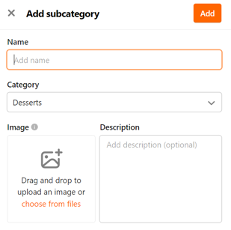 Editing the Subcategory:
Previously created Subcategories can be edited by selecting them.
There are 2 ways to edit Subcategories:
Selecting the three dots we can Manage Visibility of the Subcategory or delete it.



Click on the Subcategory itself and a new pop-up window opens, then clicking on the 3 dots you can Manage Visibility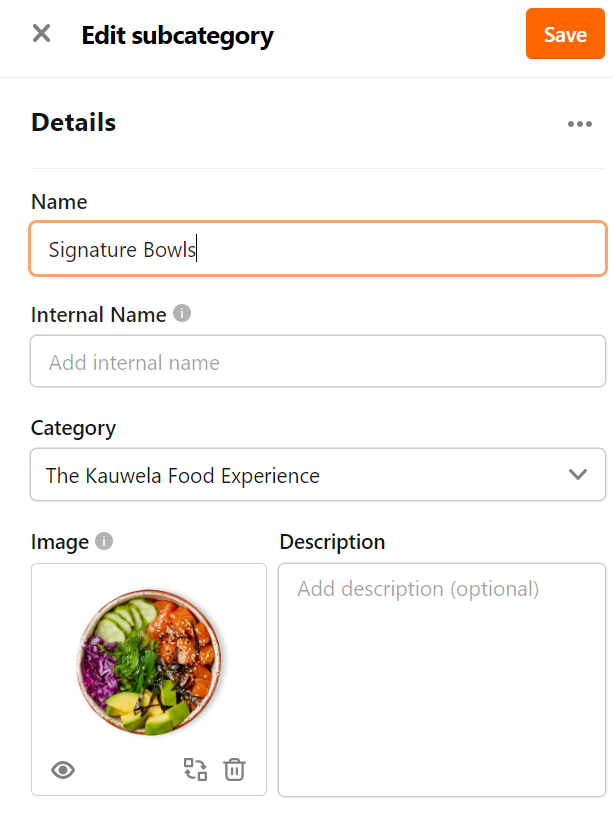 Subcategory Visibility:
You can show/hide a Subcategory on your customer facing apps through the MC. The visibility of a Subcategory can be managed per Store Group and/or Channel.
To show/hide Subcategory:
Select the Store Groups or MENU Ordering & External Channels where this Subcategory should be visible.

Click on Save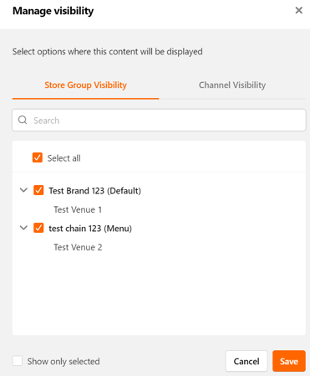 If Subcategory is hidden for the whole Store Group, it will not be visible in the Store Menu Management that belong to that Store Group, not in the customer facing apps in those Stores.
To control in which Stores your Category is available, use the Visibility feature.