| | | |
| --- | --- | --- |
| User Role | Store Groups | Store |
| Brand Manager | ❌ | ✅ |
| Area Manager | ❌ | ✅ |
| Store Manager | ❌ | ✅ |
Context
Serving Times feature allows you to define when Items in a certain Subcategory are available. End-users will only be able to order the Items when specifying a Pickup Time that is within the Serving Times. On Mobile & Web, Items that are not available for the chosen Pickup Time will be shown to customers as unavailable and the time when they will be available. On the Kiosk, unavailable items are not shown.
For weekly repeating Serving Times, Standard Serving Times are specified for days of the week. For unusual Serving Times (for a specific date or date range), Special Dates can be set.
How to set up Serving Times:
Select Store List in the top navigation bar
Select the Store with the Subcategory that you want to add the Serving Times
Click Overview from the Menu on the side navigation bar
Select the Subcategory for which you want to change the Serving Times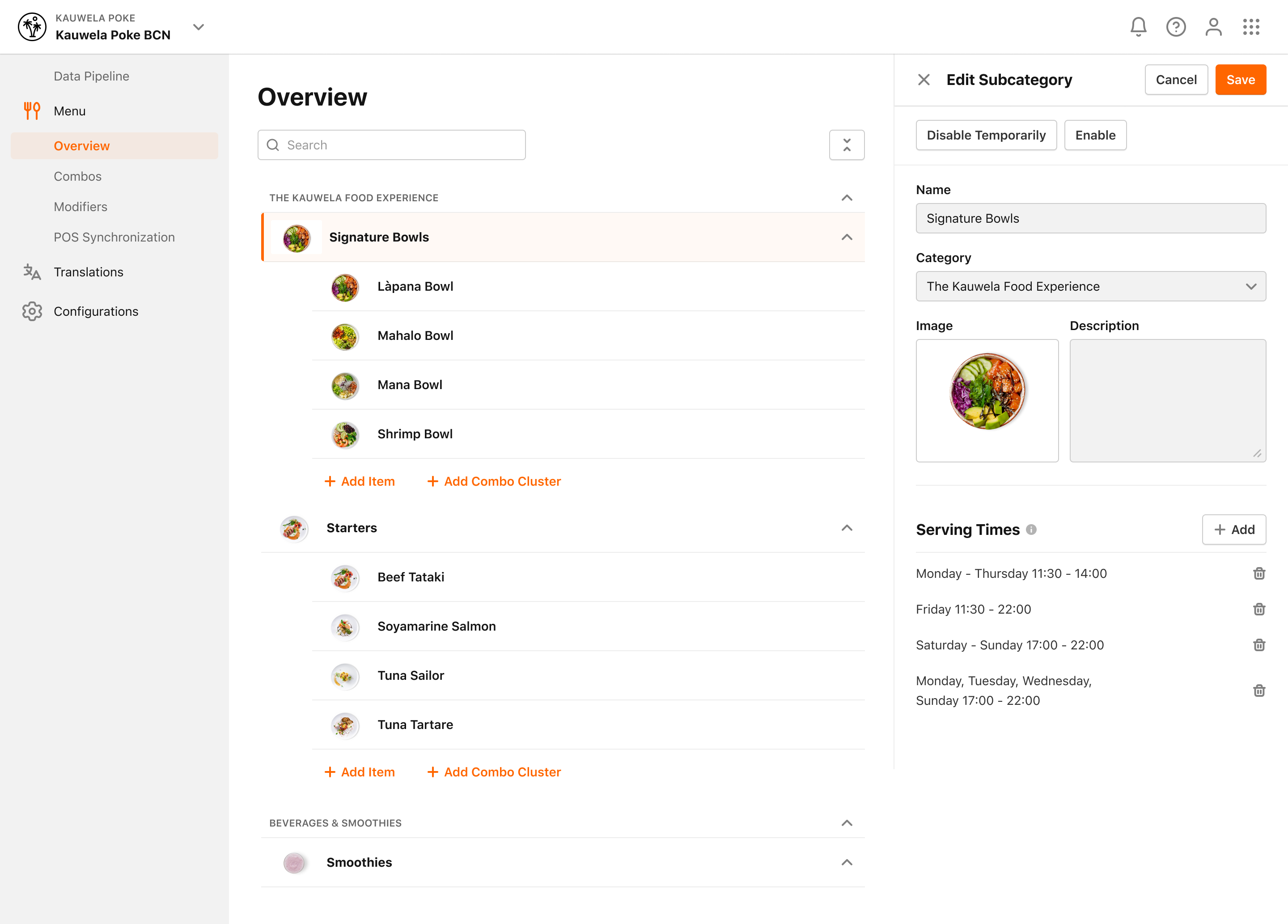 To add a Standard Serving Time: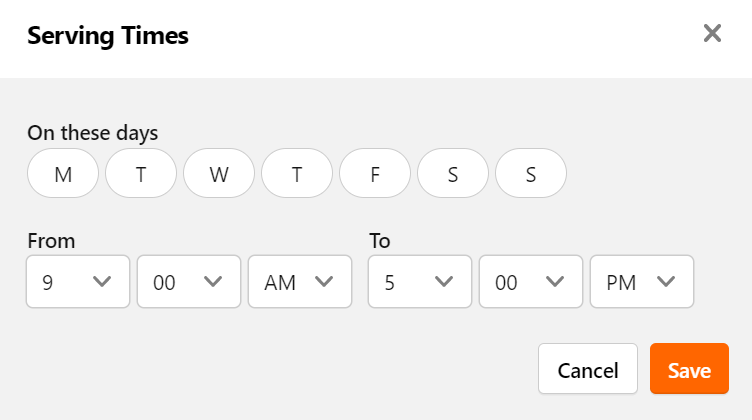 Select Days: The day picker allows you to select the days when the Subcategory is served. Each day is independent and as such can be toggled on or off, regardless of any other day selection.
From: Starting time for the Serving Time
To: Ending time for the Serving Time
NOTE: If you do not select any days and only set FROM and TO, the Serving Time will apply for the entire week.

Click ADD to add a new Serving Time

Multiple Serving Times can be added for a Subcategory


NOTE: Delivery Order can be processed only if a specific Delivery Time or a calculated send at time is within the Store's Delivery Hours.
Additionally to that: If Serving Time is shorter than Delivery Time, then the last available Delivery Time is calculated as Store Closing Time + Drive Time. But, if this time (Store Closing Time + Drive Time) is longer than Delivery Ending Time, the last available Delivery Time is Delivery Ending Time.
Available Delivery Times are in 15 min intervals.
E.g. Store's Serving Time is 8 AM - 8 PM and Delivery Time is 8 AM - 8:30 PM. The Order is placed at 7:55 PM and Store Closing Time and Drive Time is 8:35 PM, then this time is the Delivery Ending Time.