| | | |
| --- | --- | --- |
| User Role | Chain | Chain Venue |
| Brand Manager | ✅ | ❌ |
| Chain Manager | ✅ | ❌ |
| Company Manager | ❌ | ❌ |
| Local Manager | ❌ | ❌ |
You can easily edit an existing Combo from the CMS:
Click on Combos in the top navigation bar

Select the existing Combo from the sidebar
To edit the Combo:
Click EDIT below the Combo's name


Combo name: The name of your Combo. When shown to customers, the Combo name is always combined with the name of the Main Item (for example "Mana Bowl Kauwela Experience Small")
Hint (optional): If you have multiple Combos with the same customer-facing name, you can use the Hint to differentiate between them. The Hint is only shown in the CMS and not to customers.
Click SUBMIT to save your changes for the Combo
To manage Items within a Combo Group (Main Group or Side Group):
Click on MANAGE ITEMS for the Main Group or a Side Group
Manage Items modal appears with all Items in your Menu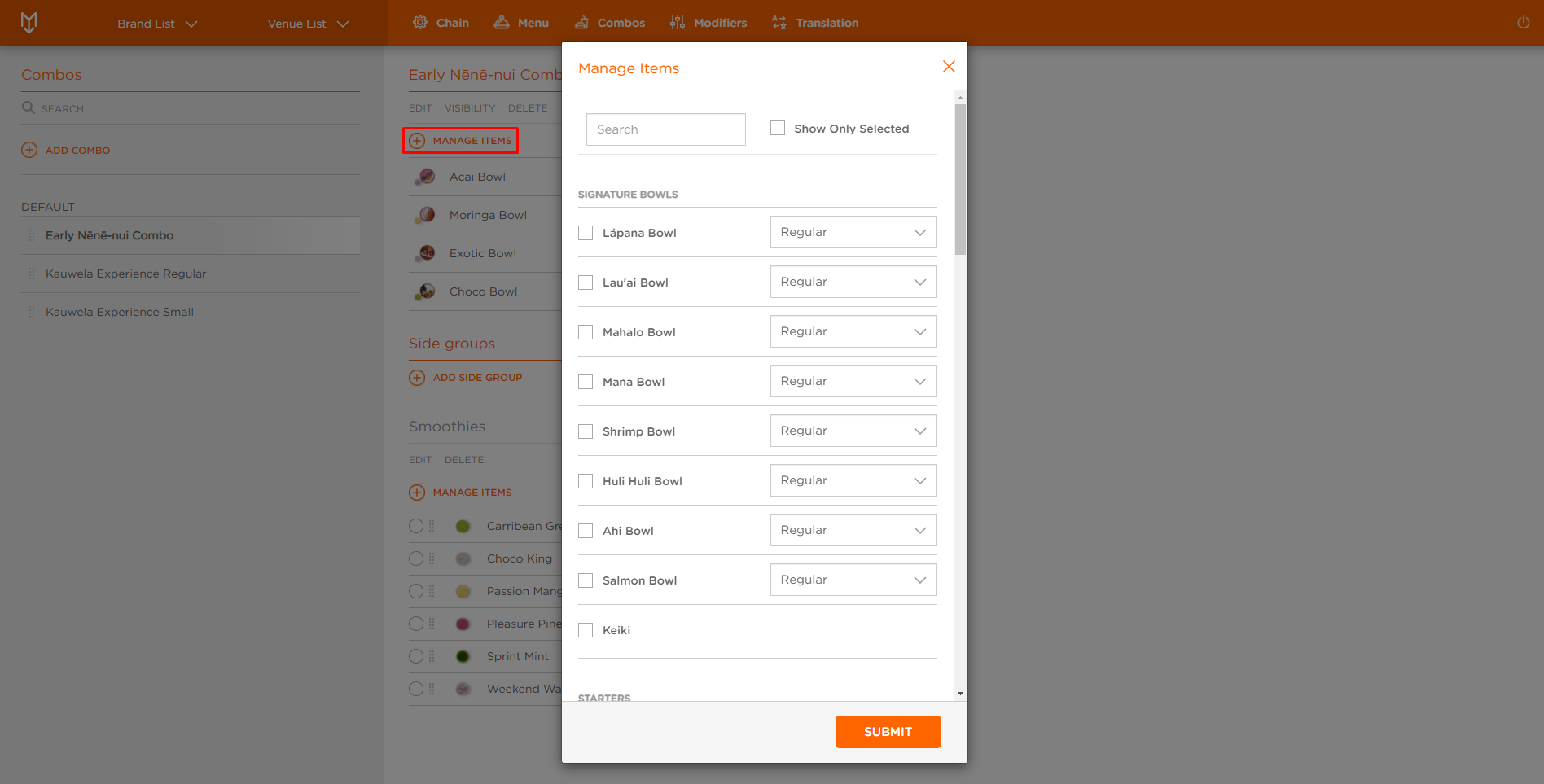 Select/deselect the Items that you would like to add/remove to/from the group

For Items with multiple Price Levels, select the Price Level with which you would like to add the Item in a drop-down list

Click SUBMIT to add/remove Items to/from the group
To preselect an Item in a Side Group:
You can preselect an Item in a Side Group to streamline the ordering experience for your customers. When the customer chooses to order the Combo, the Item will be automatically preselected for him/her and the customer can change it if he/she wants to. Since a customer can only choose one Item per Side Group, it is only possible to pre-select a single Item in the group.
Click on the radio button to the left of the Item name and image to pre-select the Item

If a different Item in the Side Group was preselected, it will automatically be deselected
To sort Items in a Side Group:
You can sort Items within a Side Group by drag-and-drop and change their position so that they are displayed to customers in a particular order.
To change pricing, please check out How to change the price of a Combo Item? article.