| | | |
| --- | --- | --- |
| User Role | Store Group | Store |
| Brand Manager | ✅ | ❌ |
| Area Manager | ✅ | ❌ |
| Store Manager | ❌ | ❌ |
Modifiers are modifications or add-ons ordered as part of an Item. They can be free (for example the choice between Rice or Quinoa for a Bowl) or have a price (for example an Avocado add-on). Modifiers are grouped in Modifier Groups, which define how many Modifiers a Customer can or must select, and are assigned to an Item (see How to manage assigned Modifier Groups for an Item?).
NOTE: If you have a POS integration, Modifiers are imported from your POS and cannot be created through the Management Center.
Click Modifiers in the left navigation bar
Modifiers page appears
Click ADD NEW and then Modifier to open the Add Modifier form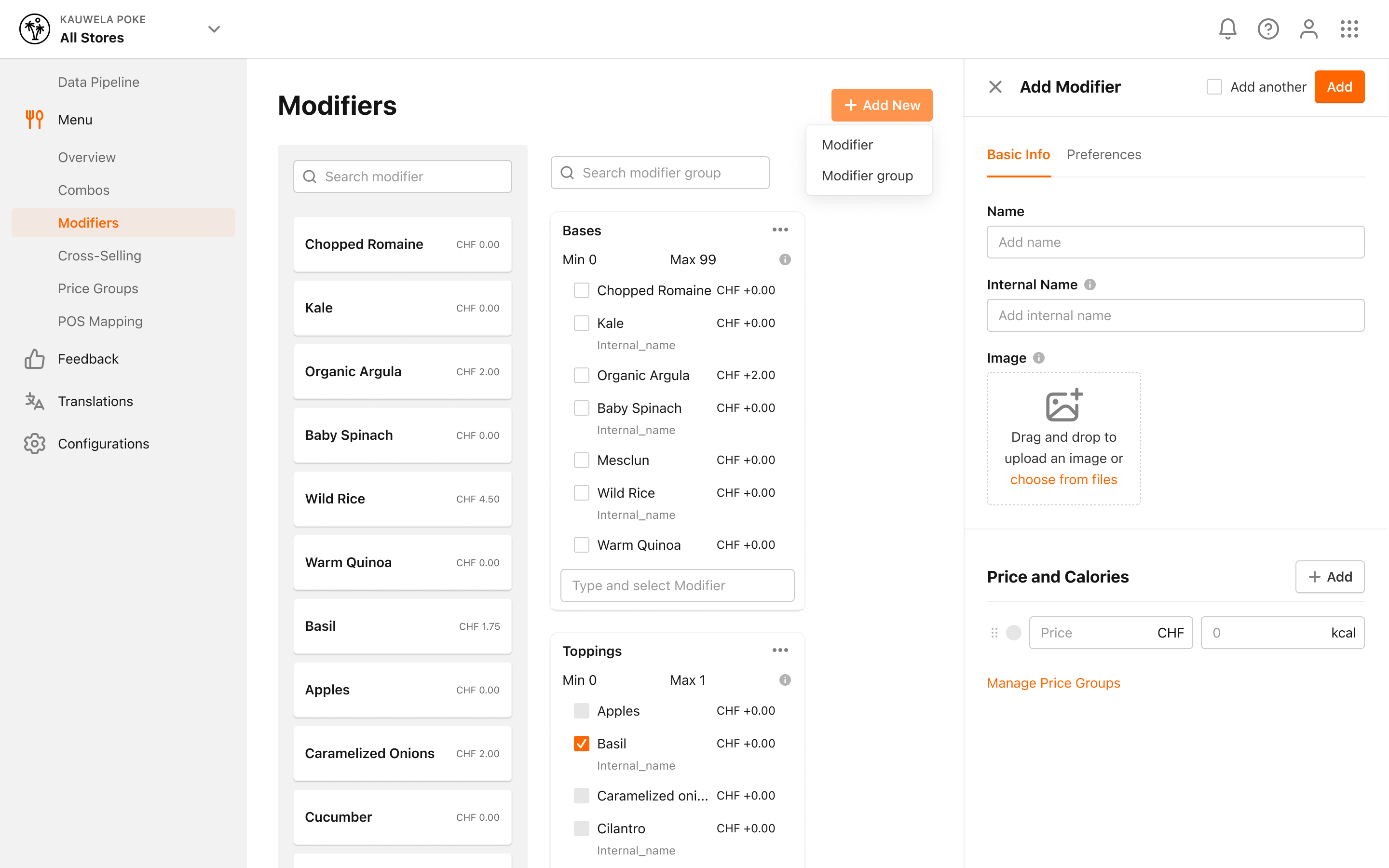 Name: Name of the Modifier shown to Customers
Price:

Please note:

the price of a newly created Modifier is by default set to 0 and will be saved as such if you don't change it upon Modifier creation:


Price of the Modifier that is added on top of the Item's Price Level price when the Modifier is selected. Can be zero if the Modifier does not have an additional price
Calories: Calorie count for the Modifier, which will be added on top of the Item's Price Level calorie count when the Modifier is selected
Image (recommended): Image for the Modifier shown to the Customer. Modifier images are currently shown on Mobile & Web
Click Add to add the Modifier
Continue by adding the Modifier to a Modifier Group
To create a Modifier Group, please check out How to add a Modifier Group? article.