First Atlantic Commerce (FAC) provides online payment solutions and international credit card processing for merchants, banks, and partners all over the world. This payment gateway allows merchants to accept and process credit and debit card payments online.
FAC's Hosted Payment Page is visible within the Web App where your Customers enter their payment details when adding a card to their account or completing the payment.
NOTE: Prior to creating a Hosted Payment Page, it first needs to be enabled on a Merchant Account by the FAC support. The enabled Hosted Payment Page can be accessed through the Quick View menu.
To create Hosted Payment Page:
Go to Administration
Go to Profile
From there, select Hosted Payment Pages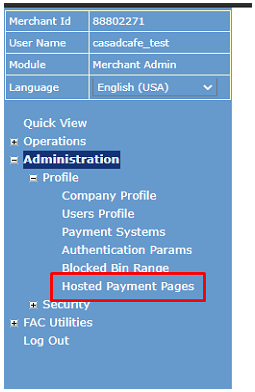 HTML editor tool page opens
Here, you can make all the necessary changes and updates and see a preview of your Hosted Payment Page.
NOTE: Do not remove any elements from the form, as all the information from the default form is required.
These are as follows:
Amount to Pay
Card Number
Expiry Date
Security Code
Now, you can proceed with creating a Hosted Payment Page:
Customize design according to your preferences

Enter information in the left side of the form

For template, select Card Details and Selective 3DS

Save the page
After setting up the Hosted Payment page, you need to provide the MENU team with the following information:
These are used to create a User URL which is then used throughout the payment process in the Web Application.