| | |
| --- | --- |
| User Role | Access |
| Administrator | ✅ |
| Customizer who can invite | ✅ |
| Customizer | ✅ |
Feature is a group of Keys within a Project that belong to the same product feature. It is enabled per Project, per Set.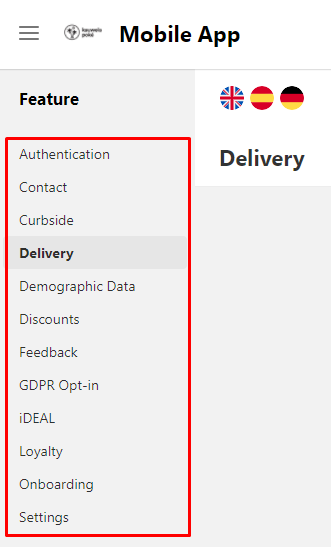 Enabling/Disabling Feature for Customization Set allows us to control which Strings are displayed per restaurant Brand. This way, only Features used by a restaurant Brand are being translated (e.g. If KFC doesn't use Mercado Pago as a payment method, then this Feature would be disabled for the Set they are using, so they wouldn't see those Strings in the Customization Center). Strings for Features that are not used won't be translated, at all.
Only Administrators can add/edit/delete Feature through the Default set. Enabling/disabling Features per Set is done in the Settings, for each Set separately.
After Administrator adds new Feature to the Set or a new Key to an already existing Feature, Customizer will see a NEW tag in the interface.

For more information on Features, please check out the following articles: