Your Customers will probably mostly order on their smartphones - granted they love your restaurant, but they may also be on the go or it's a lazy day, so no cooking. Hence, it would be good to show them all that they can get from you, keeping it as clear as possible.
This is where the improved Menu Single Page Store Layout comes to play.
How does it work?
Customers are able to browse the complete menu in one go, jump seamlessly between subcategories, move from one subcategory to another and add items to the cart on the go. Thanks to the fact that everything is visible and easy to navigate on their smartphones/tablets screens, they have a full overview of everything your business has to offer.
Store Menu Page
Take a look at what Store Menu Page normally contains:
Store information (Name, Working hours, Address/Location, Description, State)

List of Subcategories

List of Products per Subcategory (Products are Combo Clusters and Items)

Order Configuration
- Order type (Table Service - Table Number and Tip)
- Dine-in Pickup (Time)
- Takeout (Time)
- Delivery (Delivery Address and Time)
- Foodspot (Time)

Cart (Products in Cart and Order Summary)
Well, that's... a lot.
Store Layout - previously
The view is compressed, yes. But - you need to open every subcategory in order to see what it offers, then go back to the previous list to select another subcategory. So now we've changed it to even more User-friendly layout!
Single Page Store Layout - now
Take a look at how much easier, faster and intuitive the experience is for Users - vertical and horizontal navigation make it so that they have a much more pleasant journey through your Store's Menu - now available also on Mobile, apart from Web and Kiosk Apps!
Mobile:
And a small reminder how it works/looks like on:
Web:
Kiosk: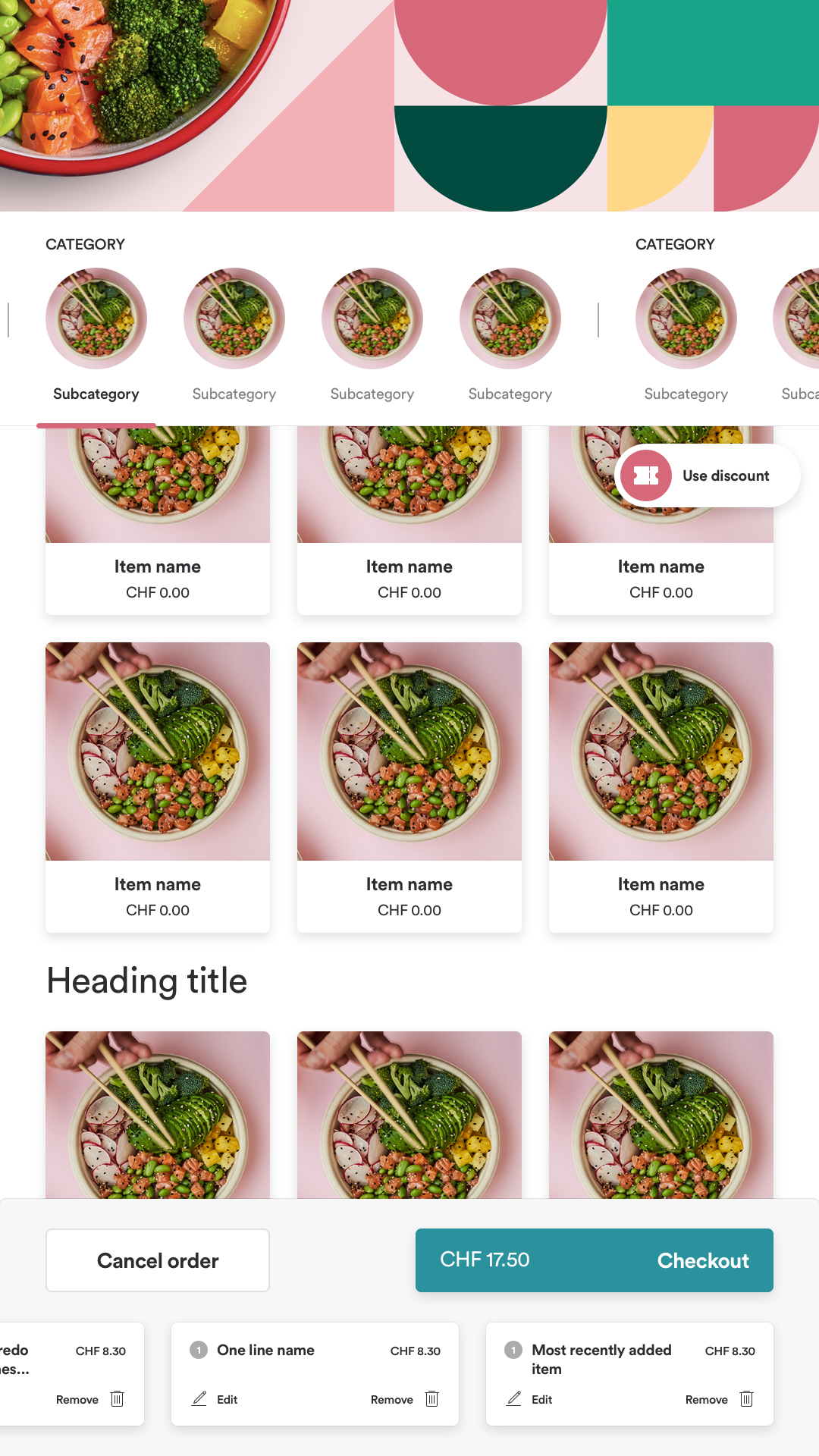 How do I get it?
This layout is available and you can use it in your Branded Mobile App. To do it, please reach out to your Success or Onboarding Manager to configure it, so your customers can see it from the next release of your Mobile App.