What is it for?
You may want to make changes to parts of your Marketing Page while keeping your Customers informed that there is some work going on underneath.
This is what the Under Construction feature is for.
What does it do?
While you develop your site, you can show your Homepage without header and footer. By doing so, you can have your main landing page up and running while you work on the rest of the site. When you're ready with the changes you've introduced in the Marketing Website CMS, you can publish them - all without denying your Customers access to your online resources!
How do I use it?
In the Marketing Website CMS, you have the following option under the Theme General Settings section: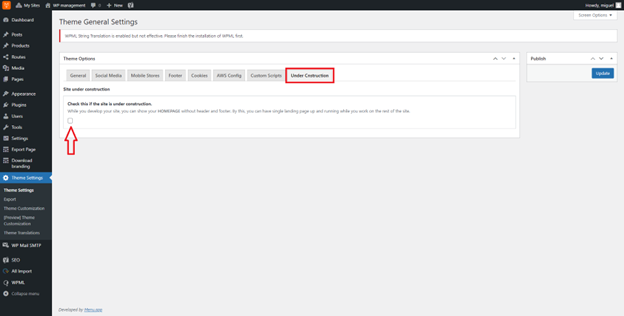 Just mark the checkbox and perform the export process to see it reflected on the page.
Once you're ready with your new content and want the fully functional header and footer to be back, you just have to disable the checkbox, Update the page and perform the page export process again.
You're all set now!