Context
Assets are other visual elements that don't fit categories such as colors, fonts, etc. These can be images or logos, for example.
Home screen image
Use the whole safe area in the top part of the screen to show any neat visuals but also a clear call to action like 'ORDER HERE'. Tests prove that an obvious call to action embedded in the home image makes Users approach the Kiosk and use the Kiosk App. The bottom part of the screen is reserved for the Order Type and language buttons. Remember: don't place image elements that can interfere with the interface in that area.
The home screen image can be static - JPG, but also an animation in GIF format.
Requirements:
Image resolution: 1080x1920px

Maximum file size: up to 1Mb for JPG, up to 30Mb for GIF

Image format: JPG, GIF

File name: home_image
PLEASE NOTE: the seemingly 'blank' rectangular element of 1080x520x has to be an integral part of the file you provide. We need that 'blank' space to introduce the interactive content (like you see below on the left):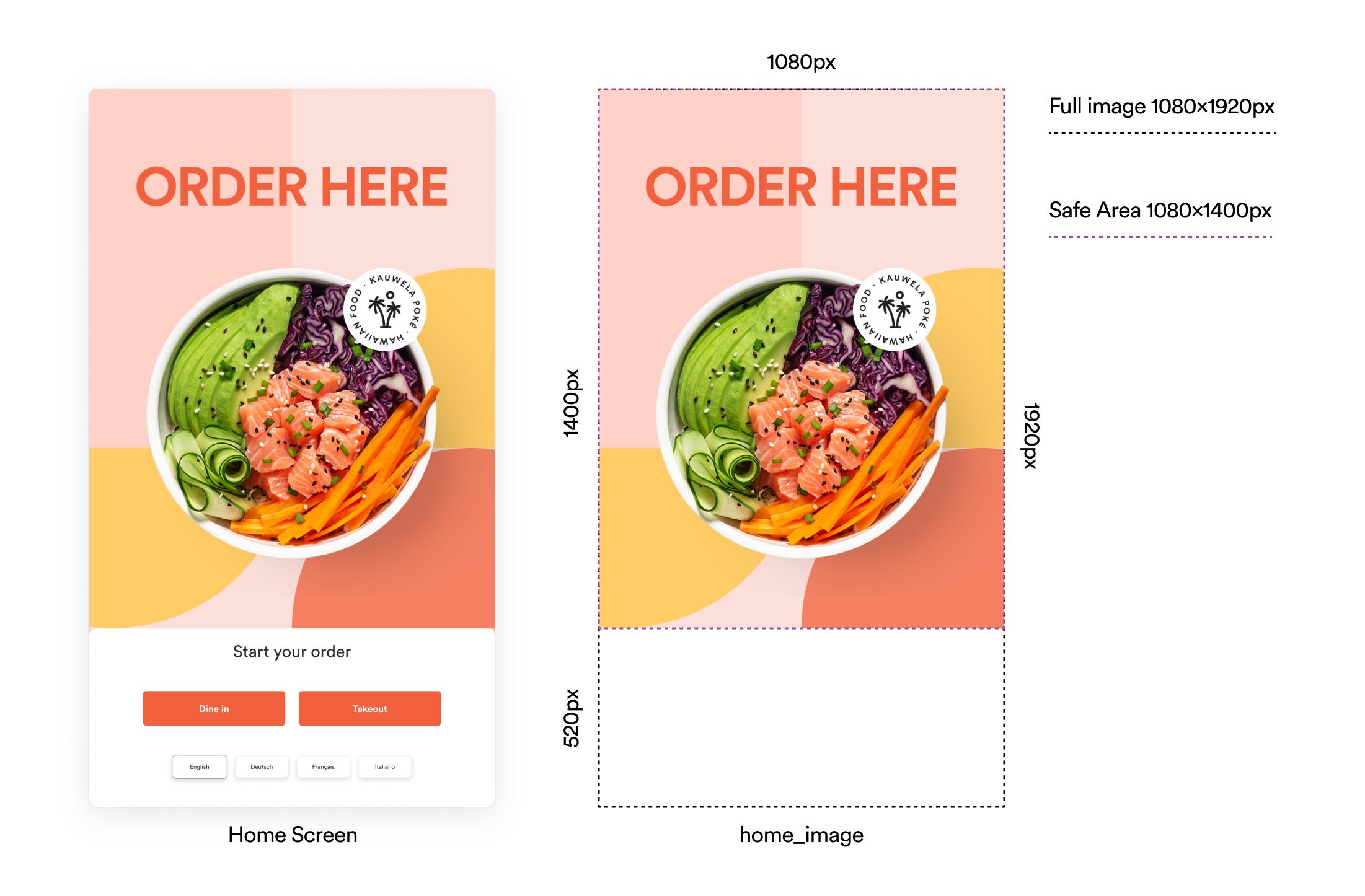 Header image
Used at the top part of the menu page, above the subcategories navigation. You can use this
area for marketing purposes or to present your Brand.
Note that majority of kiosk models already feature your logo just above it, so it's recommended not to show the logo in the header image.
Requirements:
Image resolution: 1080x280px

Maximum file size: 1Mb

Image format: PNG, JPG

File name: header_image

Store closed image
Used as the home screen image when a store is closed. Best practice is to leave the middle area for at least 800x1080px clear.
Requirements:
Image resolution: 1080x1920px

Maximum file size: 1Mb

Image format: PNG, JPG

File name: venue_closed_image