Kiosk, Order Number Display, Printer, Tablet, POS
The following ports need to be open for outgoing traffic
Port 443 (HTTPS) – api.menu.app
Port 443 (HTTPS) – menu.provconnect.net - IP: 31.225.29 (Kiosk and OND)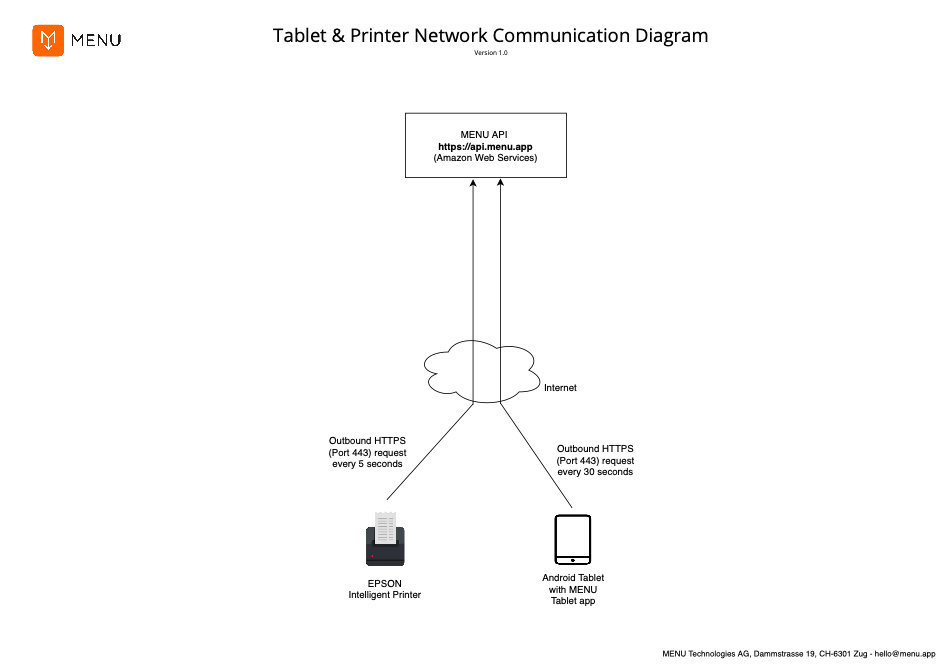 SIX Payment Terminal
Checklist
Your payment terminal has access to an Ethernet line (RJ45) that supports DNS and DHCP and provides free access to the Internet.
If your existing local network is firewall-protected, 24-hour free Internet access must be ensured for your payment terminal. The payment terminal automatically sets up the connection and implements service updates during inactive business periods
Ethernet port communication requirements for payment terminal
Ethernet line (RJ45)
Line supports DHCP and DNS
Free Internet access (please observe firewall rules)
The following IP addresses must be allowed to pass if the Internet connection is protected by a local firewall or a firewall set up by your Internet provider!
* incl. Diners, JCB, Swisscard/American Express, Migrosbank, GE Moneybank, Jelmoli, Accarda
The list is not definitive (as of 1st January 2016). The list has been drawn up and checked with great care. Please note that IP address can change at any time. SIX Payment Services accepts no responsibility for any mistakes or modified addresses.
Firewall test option