[1LS] WEBAPP Troubleshooting Guide
Delete Browser-Cache and reload the WEBAPP
Check the CMS for any CMS specific configuration errors
Try to reproduce the issue yourself
Try to reproduce the issue on a different Browser
Try to reproduce the same error on the Mobile APP (if possible)
Open Developer-Tools on the Browser, select Network and reload the error:
a. Check the Network Tab for any errors (red names with a different Status than 200)

b. If there are any errors, please export this view and send it to our Support Team
7. Also check the 'Console' to see additional info and forward the info to the Support Team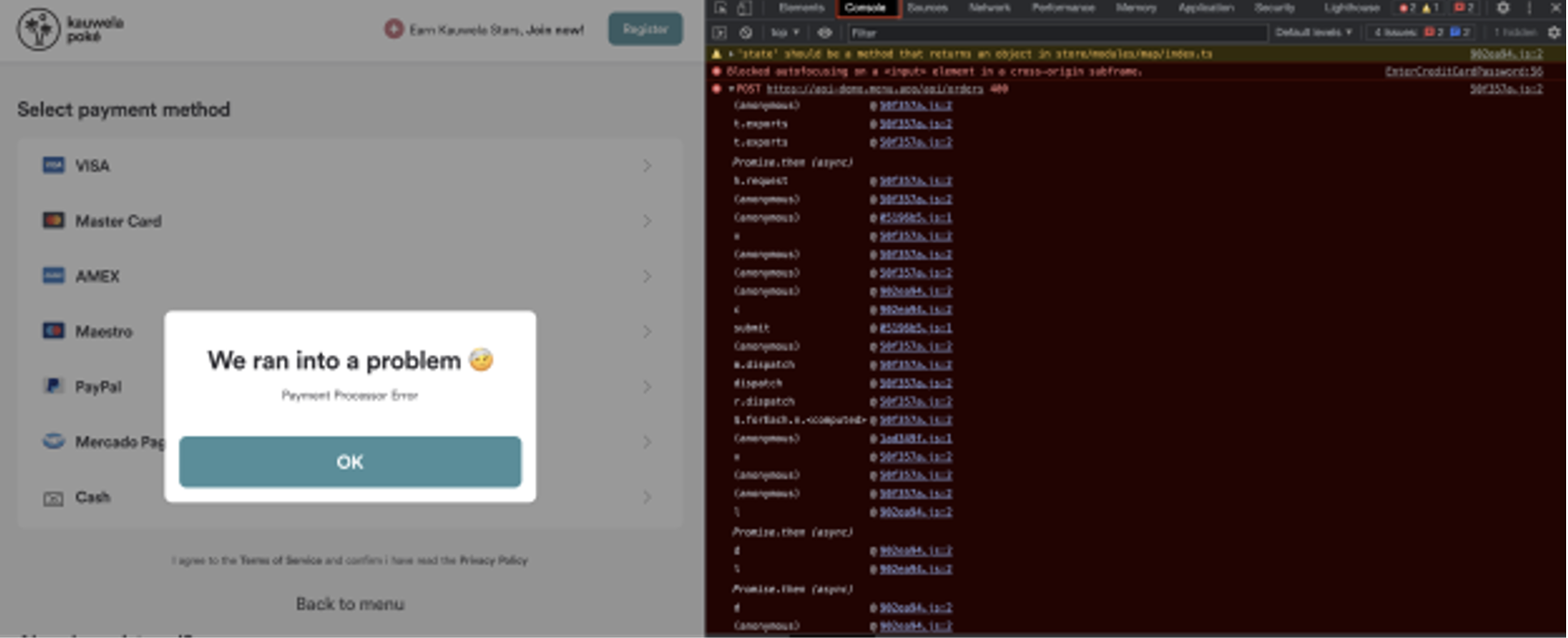 Level 2 WEBAPP Support
If you do not find the cause of the issue please contact our helpful support ninjas by either submitting a request on the top right of this page or opening a ticket through one of our contact forms.
Please always try to provide as much information as possible when opening a ticket with our MENU Support team.
Important Information:
WEBAPP URL
Store Name and CMS Store ID
User's full name or email address
Exact time, when the issue occurred
Order Number (if available)
Exact description of the reproduction steps (So MENU is able to reproduce the error)
Screenshots/Screen recordings (if available).
Level 3 - MENU Development / 3rd Party Support
Our payment integration development team or the 3rd Party Support will look deeper into the issue.
Therefore, the Level 3 of support is the MENU development team or 3rd Party Support (e.g. FreedomPay).
Specific to FreedomPay Payment Processor Company
For escalation to the 3rd party support, the items that need to be provided to the FreedomPay tech support include the following:
FCC Server and Client logs of when the issue occurred
MerchantReferenceCode, Timestamp, or some other identifying information for when the error occurred
Description of the issue/error
If the issue/error can be reproduced, the reproduction steps should be provided
Any other contextual information regarding the issue
Request IDs (if available)
FreedomPay Technical Support
FreedomPay Technical Support contact info: