Context
In both Mobile and Web Apps, your Clients have the option to fill out a form in order to:
request information about the data stored in the database
request to change that information
request to delete that information
This article describes how you and your DPOs should proceed when you receive these emails.
How does it work?
Here is the step-by-step description of the flow for this process:
The User fills in the form on the Web/Mobile App
You receive it and raise a request using this form
Once you click Submit, the form will land with MENU Support and they will process it for you
Here's how the form looks like: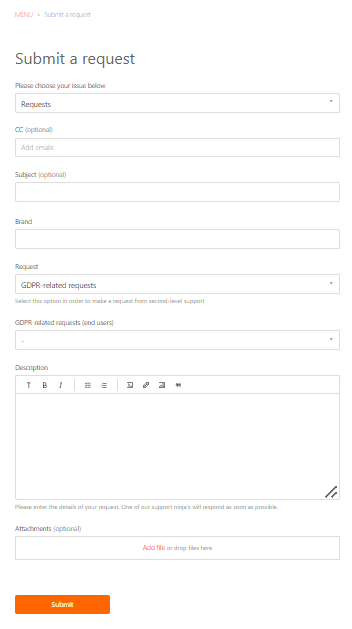 Future features
In the future, your Clients will have an option to delete the account directly in the Mobile or Web Apps. However, if someone only wants to obtain information about their account and not delete it completely, they should still have to request it through the form.
Please note: Another to be implemented feature is that the Brand will actually be able to delete users on their own.