| | | |
| --- | --- | --- |
| User Role | Chain | Chain Venue |
| Brand Manager | ✅ | ❌ |
| Chain Manager | ✅ | ❌ |
| Company Manager | ❌ | ❌ |
| Local Manager | ❌ | ❌ |
Combo Cluster represents a "container" for Combos and Items to be combined into a Combo Meal. One Combo Cluster can contain multiple Combos. If not defined, Combo Cluster name is Main Item + Combo name combination. Combos from Menu are inherited from the Chain when Venue in Chain is added.
To add Combo Cluster to Menu:
Click on Menu in the top navigation bar

Menu page appears

Make sure that you are in the right Menu. Usually, there is only one single Menu called Default that opens automatically. If you have multiple Menus, you can switch the Menus using the arrow button to the right of the Menu name.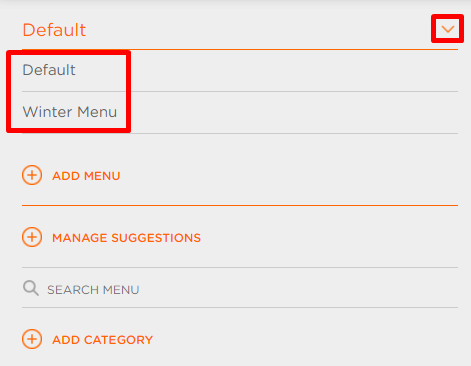 Select the Subcategory to which you would like to add the Cluster (e.g. Signature Bowls)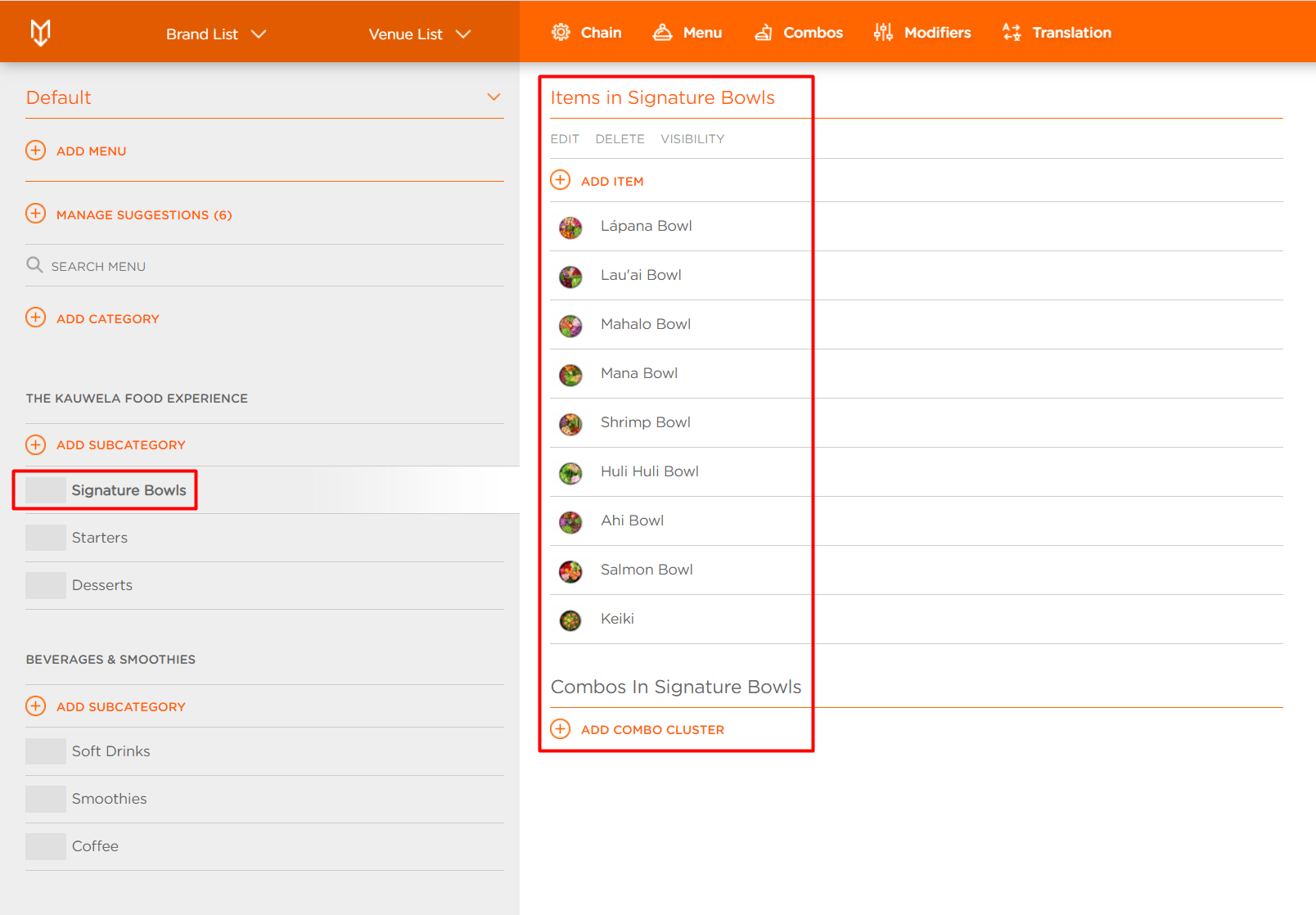 Click on ADD COMBO CLUSTER in Combos in (Subcategory name) section
Add Combo Cluster form opens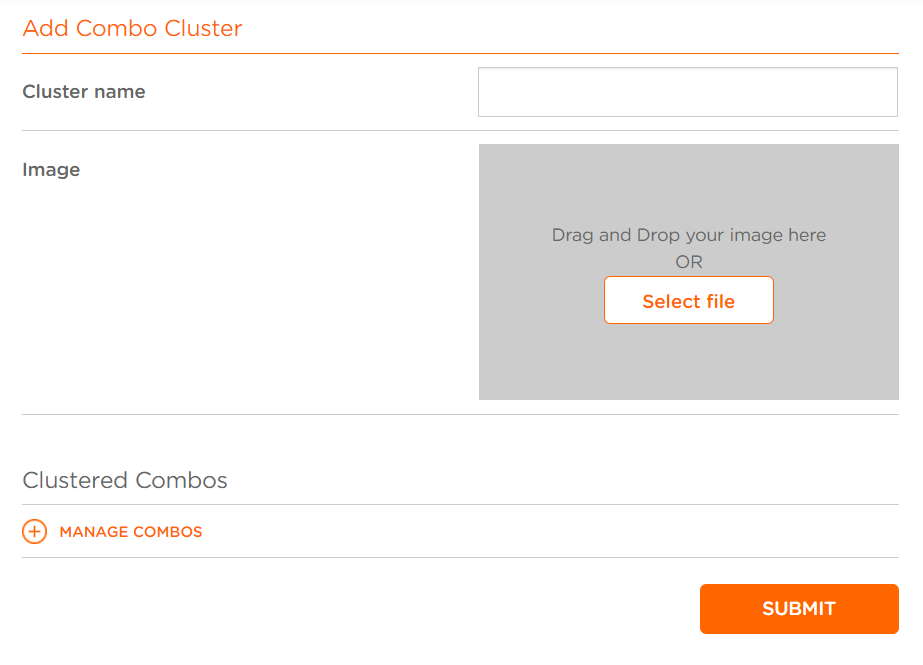 Cluster name: Name of Combo Cluster shown to Customers as Combo Meal
Image (recommended): Image of Combo Cluster. We would recommend you to add image to every Combo Cluster, especially if you have Kiosks.
For more information on the requirements that image needs to meet, please check out Image Requirements article.
MANAGE COMBOS: Click here to select a Combo that will include this Combo Cluster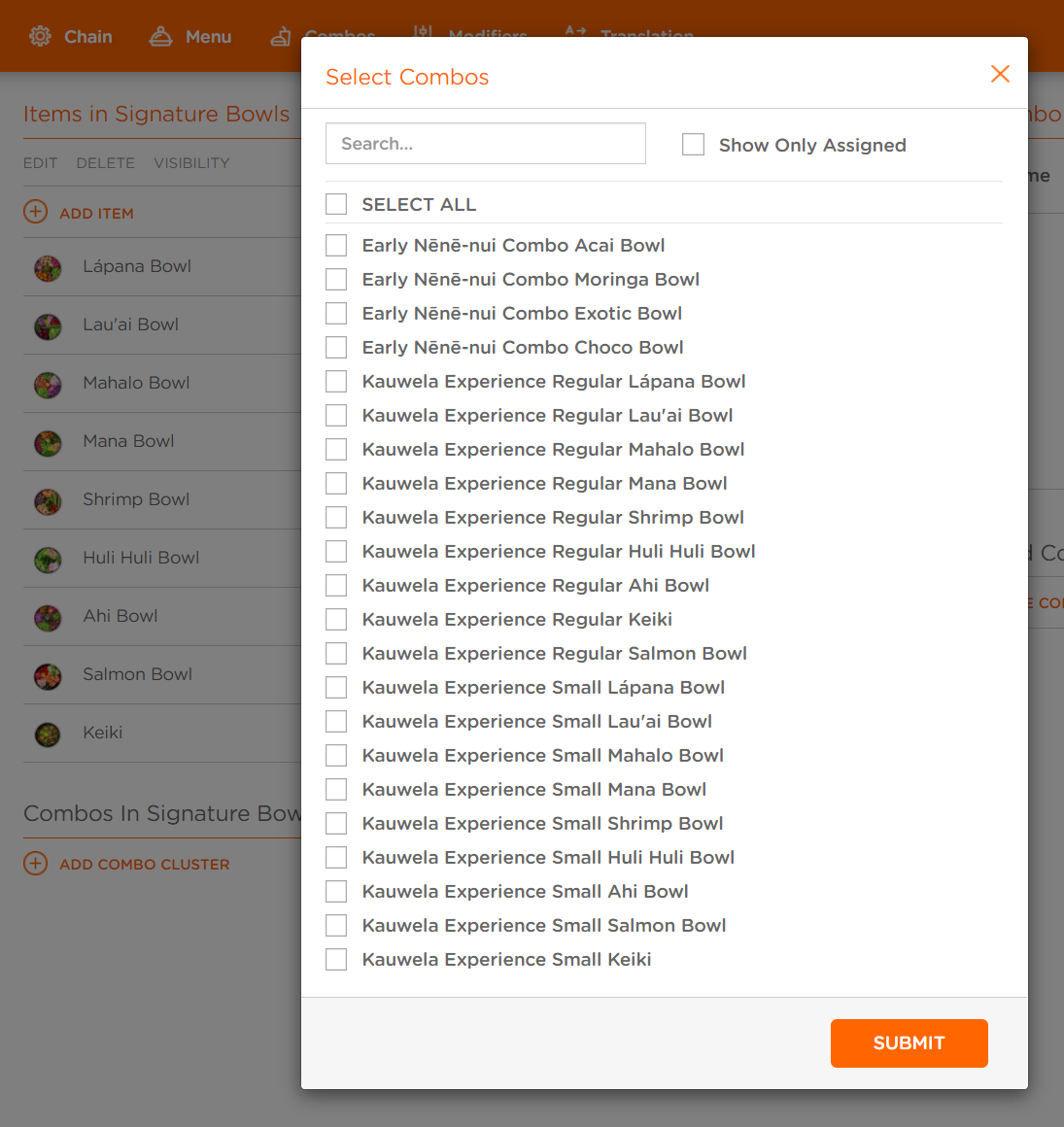 Select the Combos you would like to add to the Cluster

Search them by name in the Search box
Check SELECT ALL box to select all the Combos from the list
Check Show Only Assigned box to show only Combos assigned to this Cluster
Click SUBMIT after you selected Combo(s)
Selected Combos are now displayed in the Clustered Combos section
Click SUBMIT

You have successfully added Combo Cluster
NOTE: Main Item that belongs to a Combo Cluster should not be deleted from the Menu.