| | | |
| --- | --- | --- |
| User Role | Store Group | Store |
| Brand Manager | ✅ | ✅ |
| Area Manager | ✅ | ✅ |
| Store Manager | ❌ | ❌ |
Price Groups feature allows a MC user to set different pricing for the same entity (Item, Modifier or Combo). There are 7 different Price Groups that can be used for this purpose.
Price Groups can be mapped to multiple Order Types and/or External Channels.
By default, MENU Order Types and External Channels are mapped to Price Group 1. This Price Group is set as a default one for each enabled Order Type and each newly assigned External Channel.
Orders should be placed with the correct price based on the Order Type (for MENU channels) or the External Channels (for External Channels).
All MC user roles with respective access permissions should be able to map Price Groups (configurations) to MENU Order Types and External Channels.
To set up Price Groups:
Select the Store Group for which you want to edit Item price in the Menu

Select Price Groups tab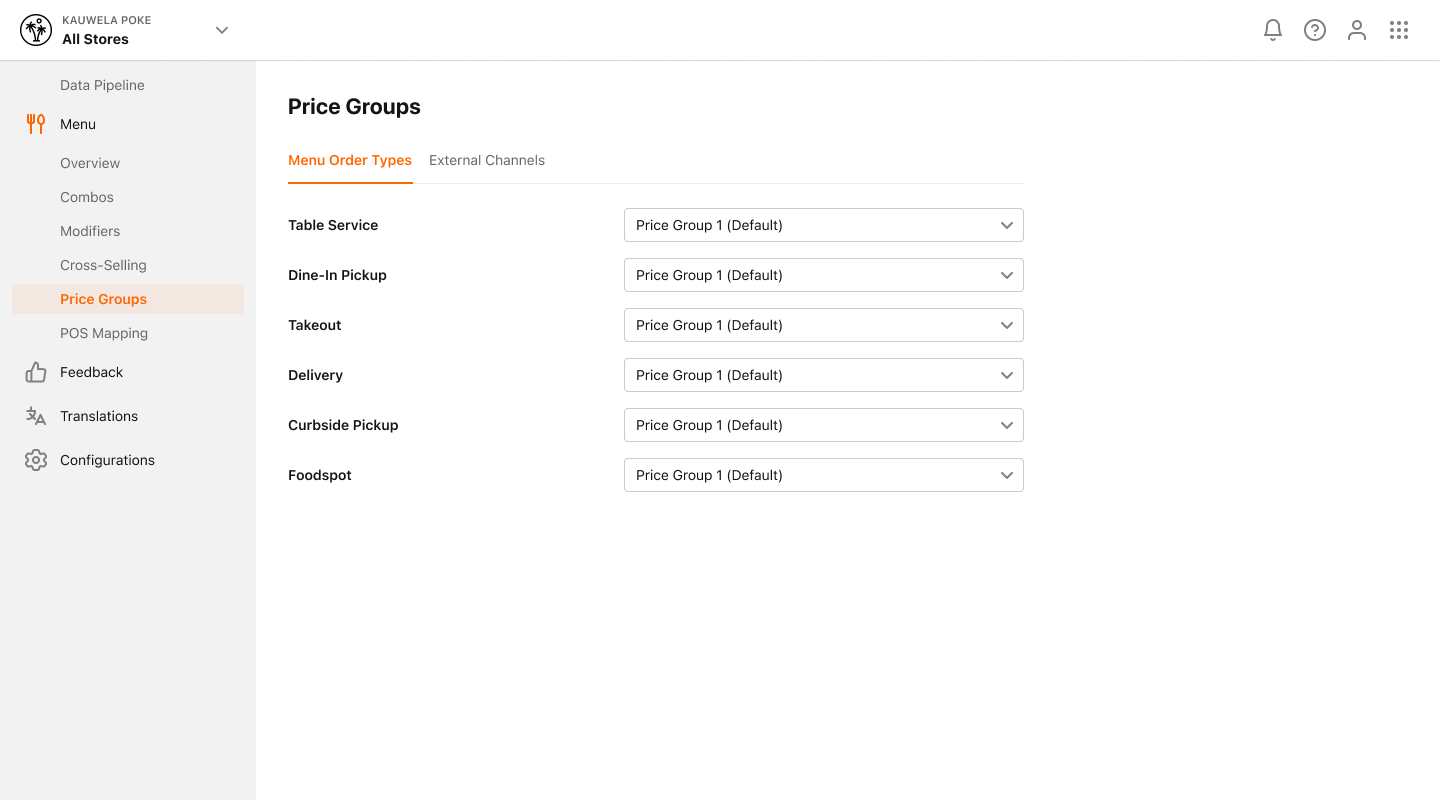 You have the option to select Price Group (7 different Price Groups) for each Order Type or External Channel. Price Group 1 is the Default one.
Select the Price Group from the drop-down menu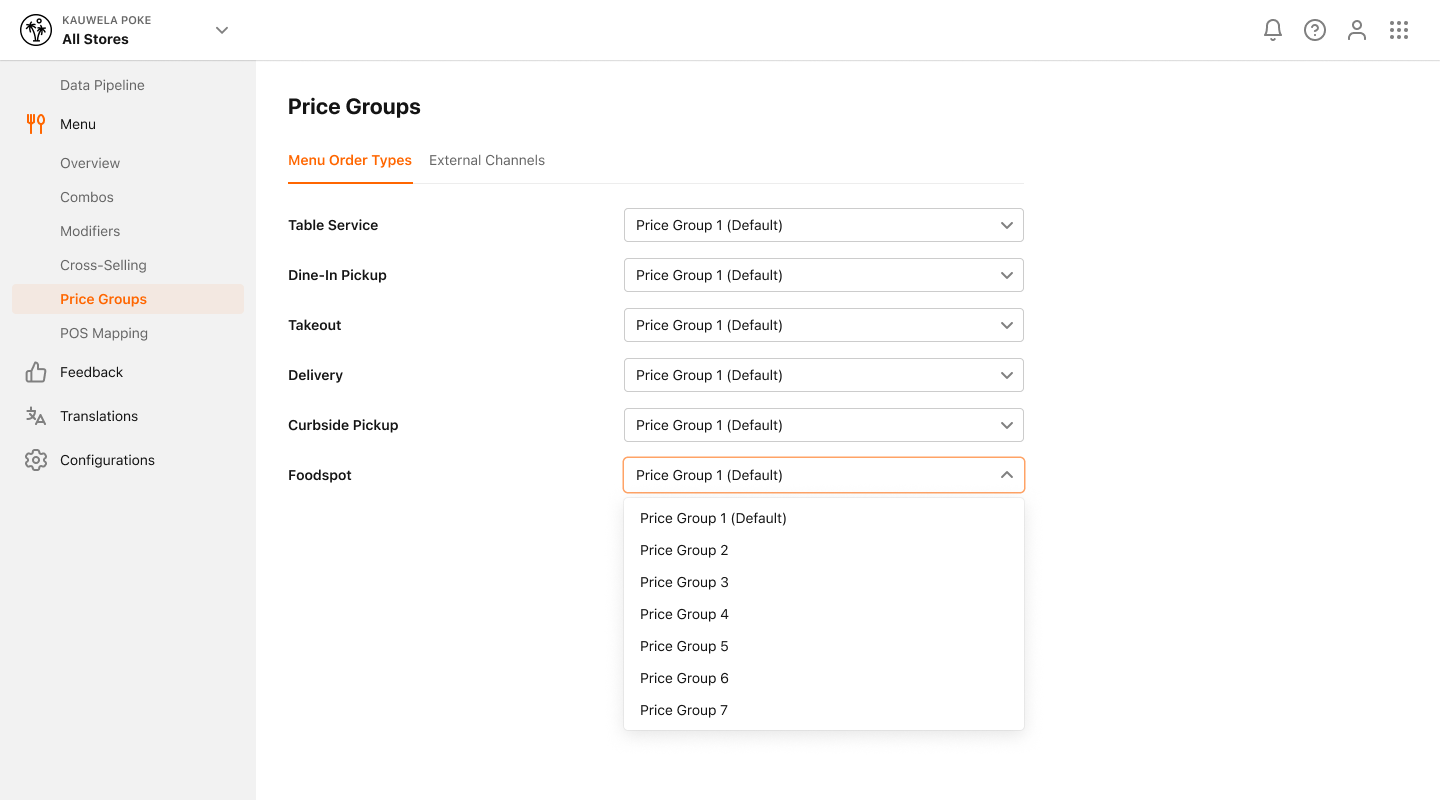 You've set new Price for Order Type/External Channel.
NOTE: In case of a Store, Price Groups are set on a Store Group level and cannot be modified on a Store level. Single Store has the same access permissions as Store Group.
External Channels Price Groups - DoorDash vs. the rest
In case of External Channels, MC's interface shows two fields - main Price Group for the default Order Type (identified as the name of the particular External Channel) and the alternate Price Group for the second Order Type. HOWEVER: This is currently supported only by DoorDash. The 'Takeout' Order Type will not be used nor shown in the External Channel for none of these, except DoorDash: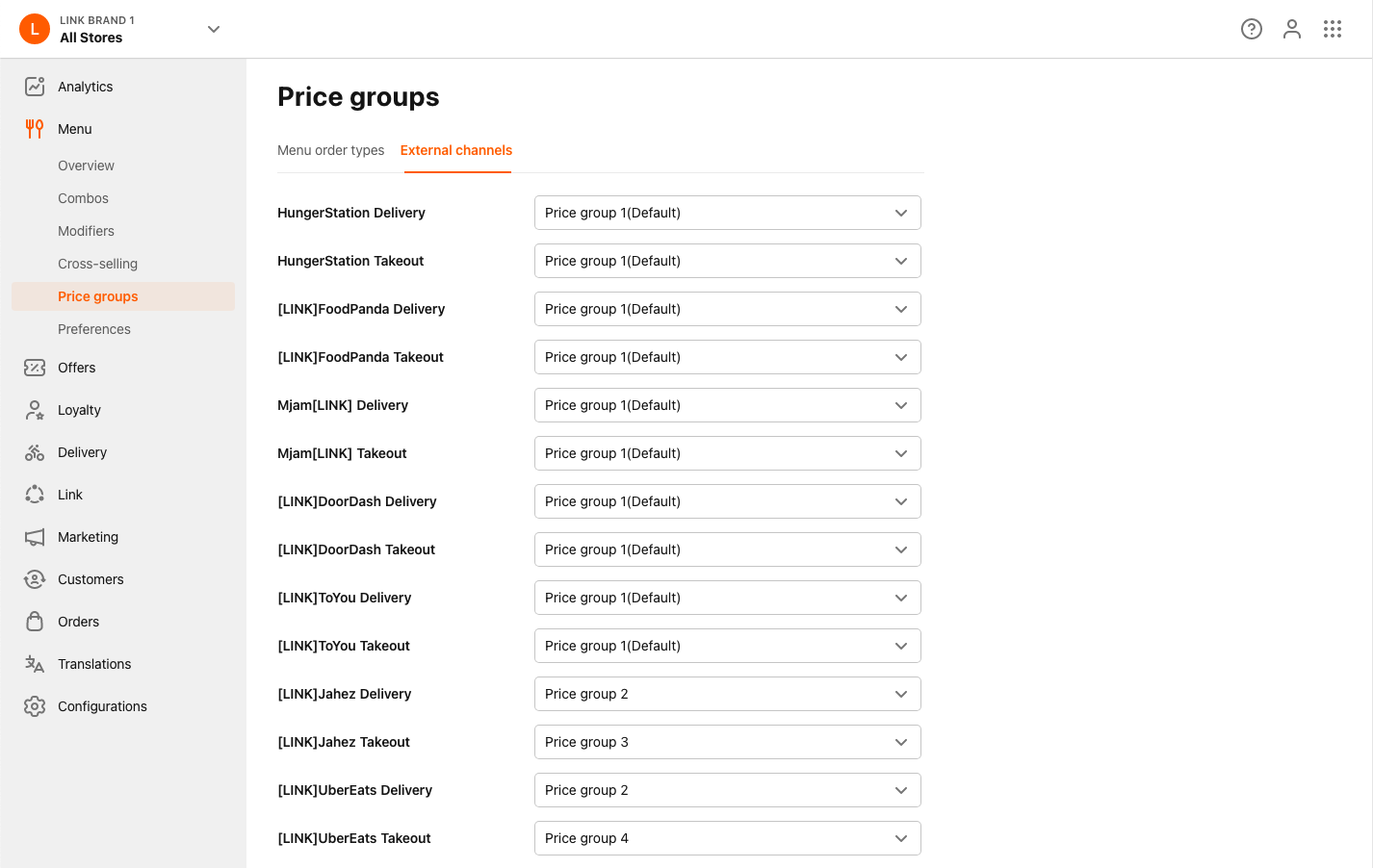 We suggest that, upon creation of a Price Group, you stick to Price Group 1 for all those that don't support Takeout Price Groups.
For more information on how to use Price Groups, please check out the following articles:
How to edit Item price in Price Group?
How to edit Modifier price in Price Group?
How to edit Combo Item price in Price Group?