Table of Contents
Level 1 - Customer 1LS Support

Level 2 - MENU 2LS Support

Level 3 - MENU Development / 3rd Party Support
Specific to FreedomPay Payment Processor Company

Specific to Paystack Payment Processor Company
Level 1 - Customer 1LS Support
In most cases, MENU Kiosk Web Application provides an error message on the Kiosk when something goes wrong in the payment or refund flow:

Customer 1LS support needs to contact and notify MENU 2LS support by providing the following information:
Screenshot of the Kiosk with the error message

Store information (Name, Venue ID from CMS)

Time when the problem occurred

Kiosk number (if multiple Kiosks are installed in the Store)
Level 2 - MENU 2LS Support
MENU support agent will check the Kiosk logs and try to find the error. If the agent needs more information, he will contact 1LS Support.
If the MENU Support agent can't fix the issue right away, the issue will be forwarded to Level 3 - MENU 3LS support.
Level 3 - MENU Development / 3rd Party Support
Our payment integration development team or the 3rd Party Support will look deeper into the issue.
Therefore, the Level 3 of support is the MENU development team or 3rd Party Support (e.g. FreedomPay, Paystack, etc.).
Specific to FreedomPay Payment Processor Company
For escalation to the 3rd party support, the items that need to be provided to the FreedomPay tech support include the following:
FCC Server and Client logs of when the issue occurred
NOTE: FreedomPay log files are located in this folder on the Kiosk machine: C:\ProgramData\FreedomPay\Freeway Commerce Connect\log. Logs are separated into two different files, one for the FCC client and one for the FCC server and also by the date when they occurred.
MerchantReferenceCode, Timestamp, or some other identifying information for when the error occurred

Description of the issue/error

If the issue/error can be reproduced, the reproduction steps should be provided

Any other contextual information regarding the issue

Request IDs (if available)
FreedomPay Technical Support
FreedomPay Technical Support contact info:
Email: techsupport@freedompay.com

Phone: 888-495-2446
Specific to Paystack Payment Processor Company
Terminal used for integration is SmartPeak P1000 and is running on Android OS. There is a Paystack POS application that communicates directly with the Paystack API.

Every issue related to the Paystack POS application should be addressed to the Paystack support.

For the escalation to the third party support, items to be provided to the Paystack tech support include the following:
Description of the issue/error

If the issue/error can be reproduced, the reproduction steps should be provided

An image of the terminal with an error message,

blocked screen... etc.

If the receipt was printed on the terminal, attach an image of the customer and/or merchant copy of the receipt
For example, if there is a problem on the processor server, the error message and the receipt are printed: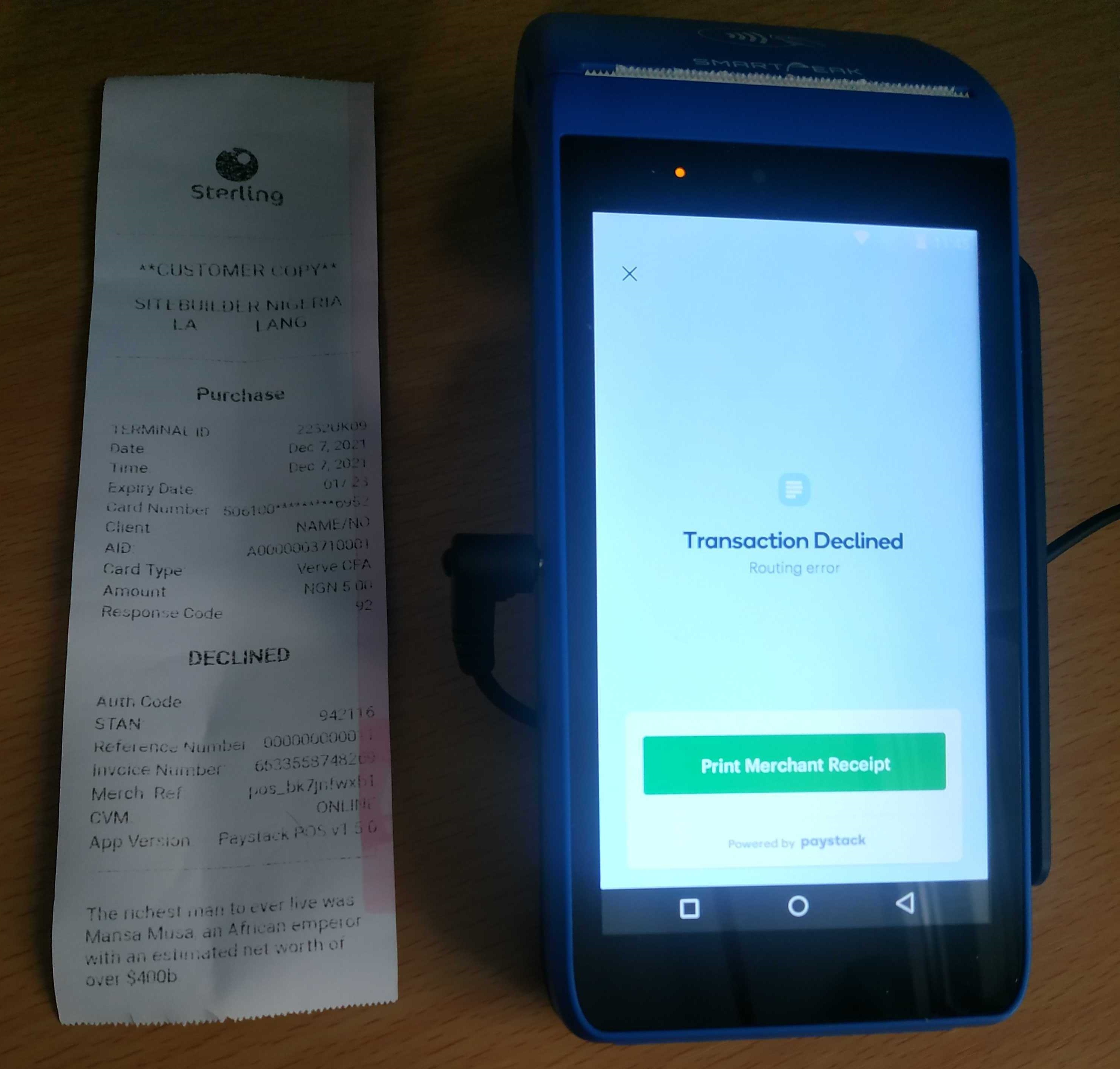 Well known issues that were found in the integration stage with the MENU Kiosk are listed on the Confluence page:
https://menuteam.atlassian.net/wiki/spaces/MenuV3/pages/3111125050/Paystack+-+All+issues+and+doubts
If Paystack support is informed about the issue, that will be indicated in the status column.
Paystack Technical Support
Paystack Technical Specialist for F2F/Kiosk contact info:
Email: Damilol.Odujoko@paystack.com